Hello everyone,
holy smokes I can't believe we hit November. This year went by way to fast. I already completed my Goodreads reading challenge of 50 books so YAY. Any books now are just icing on the cake. While I might have read less books I still read more pages then some previous years,it seems like the books I'm reading are getting bigger and bigger lol. We still have two months of this to go and I think once I'm caught up again with ARC I will just read books I already have had on my TBR here, or least I'm hoping to.
So I will not set any goal for November or even December.
Here are some books to look forward to in November according to goodreads.
The Mortal Instruments: The Graphic Novel, Vol. 1 by Cassandra Clare, Renegades by Marissa Meyer and Haven by Mary Lindsey are coming out on November 7th.
Some November,21 releases are Sweet Tea and Sympathy by Molly Harper and The Whispering Room by Dean Koontz.
Darker by E.L. James, The Brightest Embers by Jeaniene Frost and Moonlight Over Manhattan by Sarah Morgan will be released on November 28th.
We will have a new giveaway going up sometime mid November which will go through December and ends January 1
I better add my book-haul, before it gets any bigger than it already is.
Here is finally my book haul for September that I didn't get to post yet. September was a really good month, I found so many good bargains and I got some great new books as gifts from my loving husband.
So here are my print copies for September.
The Mark by Tim LaHaye and Jerry B. Jenkins.
The Rogue Hunter, Vampires are Forever, The Accidental Vampire, Love Bites, Tall, Dark & Hungry, Vampire, Interrupted and Single White Vampire by Lynsay Sands.
Me Before You by Jojo Moyes.
Penguin Random House sent me Hounded by Kevin Hearne. Thank you!
Wonder Woman: Warbringer by Leigh Bardugo , And I Darken and Now I Rise by Kiersten White.
Daughter of Smoke & Bone, Days of Blood & Starlight , Dreams of Gods & Monsters and Strange the Dreamer by Laini Taylor.
Books 8-16 of the Pretty Little Liars series by Sara Shepard.
I also received a ARC from the publisher for Ashes Reborn by Keri Arthur..
And I finally was able to buy the paperback for Empire of Storms by Sarah J. Maas for my Throne of Glass collection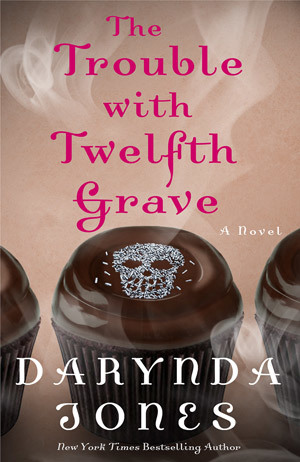 For E-copies I only had one and that was the most awesome and thrilling The Trouble with Twelfth Grave by Darynda Jones that I got from the publisher via Netgallley. Thank you !
---
Now to my October Book Haul.
I didn't have nearly as much as in September and quite the few were e-copies from Netgalley. First here are my print copies.
Gallery Books sent me a copy of By the Book by Julia Sonneborn. Thank you. I also got Dividing Eden by Joelle Charbonneau and Shatter Me by Tahereh Mafi as print copies.
For E-copies I got Tower of Dawn by Sarah J. Mass. To review from the publishers via Netgalley I received Haven by Mary Lindsey, This Heart of Mine by C.C Hunter and Nailed It by Cindi Madsen . Again a huge thank you to the publishers.
Okay now to the books I read this month, you can find the buy links in the reviews that are linked
I wish you all a great November and to those who live in the US have a Happy Thanksgiving .
---
White Hot by Ilona Andrews
Nestled on the shore of Lake Sackett, Georgia is the McCready Family Funeral Home and Bait Shop. (What, you have a problem with one-stop shopping?) Two McCready brothers started two separate businesses in the same building back in 1928, and now it's become one big family affair. And true to form in small Southern towns, family business becomes everybody's business.
Margot Cary has spent her life immersed in everything Lake Sackett is not. As an elite event planner, Margot's rubbed elbows with the cream of Chicago society, and made elegance and glamour her business. She's riding high until one event goes tragically, spectacularly wrong. Now she's blackballed by the gala set and in dire need of a fresh start—and apparently the McCreadys are in need of an event planner with a tarnished reputation.
As Margot finds her footing in a town where everybody knows not only your name, but what you had for dinner last Saturday night and what you'll wear to church on Sunday morning, she grudgingly has to admit that there are some things Lake Sackett does better than Chicago—including the dating prospects. Elementary school principal Kyle Archer is a fellow fish-out-of-water who volunteers to show Margot the picture-postcard side of Southern living. The two of them hit it off, but not everybody is happy to see an outsider snapping up one of the town's most eligible gentleman. Will Margot reel in her handsome fish, or will she have to release her latest catch.
5 ★
---
Nailed It by Cindi Madsen
I'm Ivy Clarke. Bartender, best friend, and disbeliever in love. And now I'm in over my head, trying to flip a house all by myself. Thanks, HGTV. I'm not too proud to admit I need some help. Too bad the only one who can help me is the same man I want to throw out this house's second-story window. Jackson Gamble and I can't be in the same room together for more than a minute without devolving into a sparring match. Except for that one time… But enough about that. Jackson's looking for forever, and I don't believe in love, remember? Get in. Renovate. Get out. Keep my heart firmly in tact. Because it's much easier to fix up a house than a broken heart.
Full of humor and dripping with delicious tension, Nailed It proves that every heart can be ready for a little rehabilitation, if only you're willing to open it up
4 ★
---
Expect Me by Lacey Black
Travis Stevens struggles to move on and forget about the one amazing night he spent tangled up in the sheets with a beautiful woman who disappeared just before dawn. Now she's just a memory that he can't ignore. But what do you do when the woman invades your thoughts day and night?
Josselyn McCray spent one perfect night wrapped up in the strong arms of a handsome stranger before running out in the early morning light. Now she's out of money and luck and forced to make some life-altering decisions about her future. A future that is going to involve the man she hasn't been able to forget.
Brought together by one night of passion, Travis and Josselyn are now linked forever. Will Travis and Josselyn be torn apart by demanding responsibilities and the stresses of getting to know each other? Or will they overcome the odds and find their way to happily ever after?
One thing is certain: life isn't always what you expect.
4 ★
---
And I Darken by Kiersten White
No one expects a princess to be brutal. And Lada Dragwlya likes it that way. Ever since she and her gentle younger brother, Radu, were wrenched from their homeland of Wallachia and abandoned by their father to be raised in the Ottoman courts, Lada has known that being ruthless is the key to survival. She and Radu are doomed to act as pawns in a vicious game, an unseen sword hovering over their every move. For the lineage that makes them special also makes them targets. Lada despises the Ottomans and bides her time, planning her vengeance for the day when she can return to Wallachia and claim her birthright. Radu longs only for a place where he feels safe. And when they meet Mehmed, the defiant and lonely son of the sultan, Radu feels that he's made a true friend—and Lada wonders if she's finally found someone worthy of her passion. But Mehmed is heir to the very empire that Lada has sworn to fight against—and that Radu now considers home. Together, Lada, Radu, and Mehmed form a toxic triangle that strains the bonds of love and loyalty to the breaking point.
4 ★
---
Protect Me by Lacey Black
Nate Stevens loves three things: Work, Family, Women. In that order. Having absolutely no desire to follow in three of his siblings' footsteps by settling down, Nate lives for his work as a firefighter. That's why his chance meeting with Lia leaves him unsettled like never before. There's just something about the beautifully shy and reserved woman that he can't walk away from.
Run. Hide. Keep moving. That's exactly what Lia Walker has done for the last nine months. Escaping from her past, Lia continues to move from place to place before finding herself in the small town of Rivers Edge, Missouri. Following a chance encounter with her new boss' brother, Nate, which leaves Lia feeling confused and vulnerable for the first time in months, Lia has to make a decision: to run or to stay.
When pasts are finally exposed, Nate and Lia find themselves at a crossroads. Nate will do anything to protect Lia from her past, but the question remains: Will Lia let him? When Lia's past finally catches up with her, will running be the only way to protect the ones they love most in this world?
4 ½ ★