Review
Strong-willed Anne was fearless and loved the thrill of fighting fires, pushing herself to be the best. But when one risky decision at a warehouse fire changes her life forever, Anne must reinvent not only her job, but her whole self.
Shattered and demoralized, Anne finds her new career as an arson investigator a pale substitute for the adrenaline-fueled life she left behind. She doesn't believe she will ever feel that same all-consuming passion for her job again--until she encounters a string of suspicious fires setting her beloved city ablaze.
Danny McGuire is a premiere fireman, best in the county, but in the midst of a personal meltdown. Danny is taking risks like never before and seems to have a death wish until he teams up with Anne to find the fire starter. But Danny may be more than a distraction, and as Anne narrows in on her target, the arsonist begins to target her.
From the creator of the bestselling Black Dagger Brotherhood, get ready for a new band of brothers. And a firestorm . . .
*I received a free copy from the publisher and chose to leave a voluntary review. Thank you!*
3 ½ ★
This is my first book by J.R Ward. I heard many good things about her and her Black Dagger Brotherhood Series, I just never had the chance to read them, yet. So I was excited when I had the chance to read and review this book.
Did I like it ? Yes, sure it was a good book, I liked the story and the concept and it kept me glued to the pages. It was a thriller with lots of action but also romance and plenty of smexy time. I did enjoy that the romance part, while pretty heavy was also was not taking over and carrying away from the story. It just fit really well.
There were a few things that I personally don't really care for..... One the swearing....... don't get me wrong I swear like a sailor and don't mind swearing or the f$ck word but in this case it just seemed forced. It seemed like they had to swear or they were not cool or whatever ... not sure how to explain it other than it felt forced.
Another thing was ....... the over detailed description on some things.... or repeating describing the same thing over and over. Like how heavy and the gear is .... Which yes it is .. I know firsthand but even if not I think I would have gotten the hint after it mentioned three times, no reason to repeat it even more times.
Characters....I liked them and they were easy to follow and relate to..... of course they all had their issues to work through and some more severe than others.... Though Anne was not my favorite, while I love and look forward to strong woman she was a bit annoying and seemed a bit forced to. Almost like she keep having to proof to herself how strong she is, while yeah at some points that was true others it just seemed overdone.
Overall I enjoyed this book and the story and I would read it again and looking forward to the next book on the series.
I rate it 3 ½ ★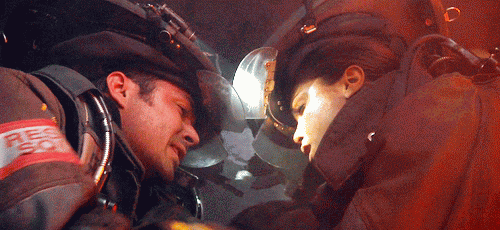 Buy Links